At our independent bookshop and vegetarian teahouse sullaluna, we are so grateful to have, in addition to locals, international guests that, to thank you for your support, we decided to write a post in English to introduce you to our world.
We opened in 2017 with the will of creating a homey space where books, illustrations, and good food could merge together and offer our visitors a moment of relaxation. The bookshop is specialised in illustrated books for young readers, but we also have an important selection of cookery books, contemporary novels, essays and a growing section of books in English and French. We believe that being an active part of the community is essential, so during the school-year we organise workshops for children (so far, these have ranged from learning how to make ricotta cheese to laying out a comic strip), meetings with authors and illustrators, wine and cheese tastings with the producers, and more.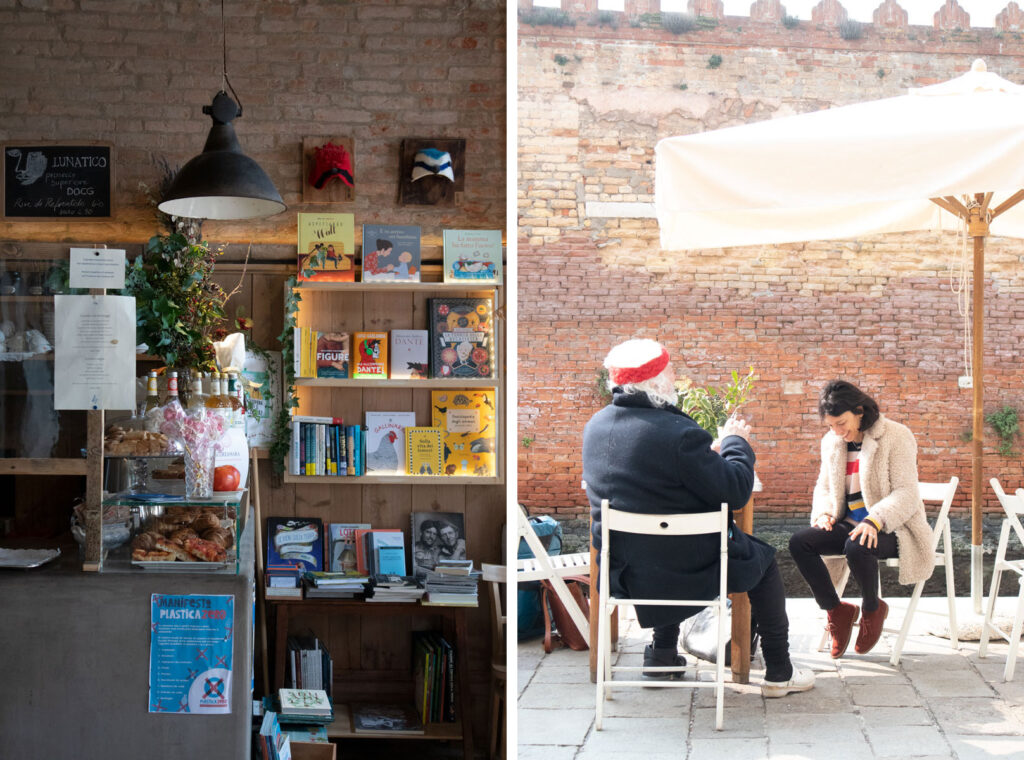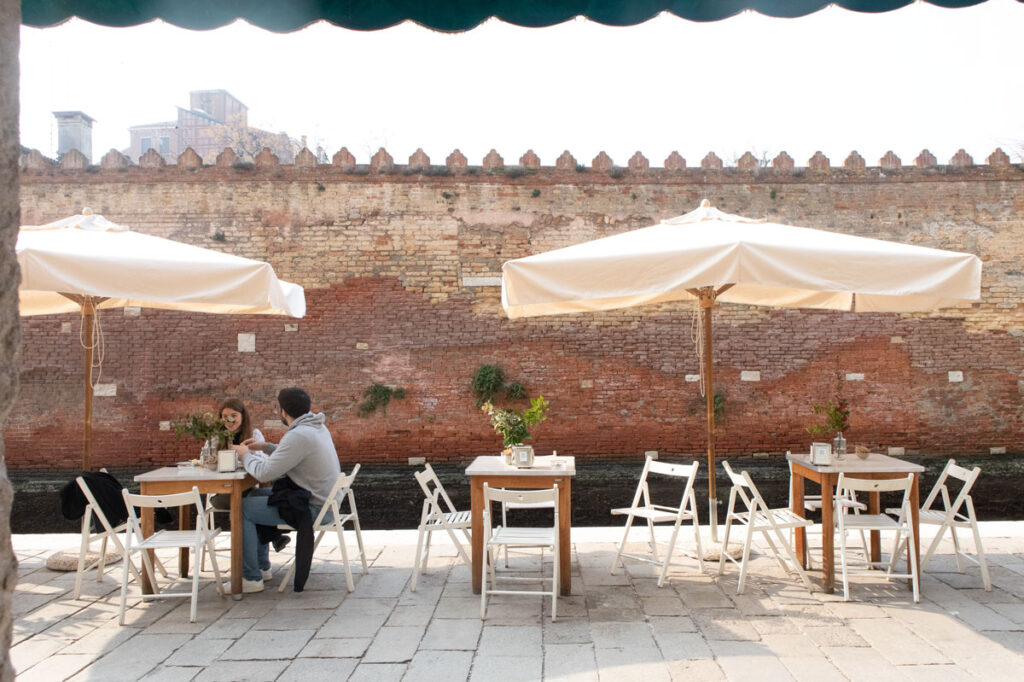 As for the tea-house, we like to think of it as planet-friendly. We select all ingredients with care, our suppliers are small organic farms and bakeries and the prosecco is produced in our organic grape-farm in Rive di Refrontolo (in the Province of Treviso). We give a lot of importance to cheese and cakes, my passions, and our short menu also includes options for celiacs and vegans (see menu).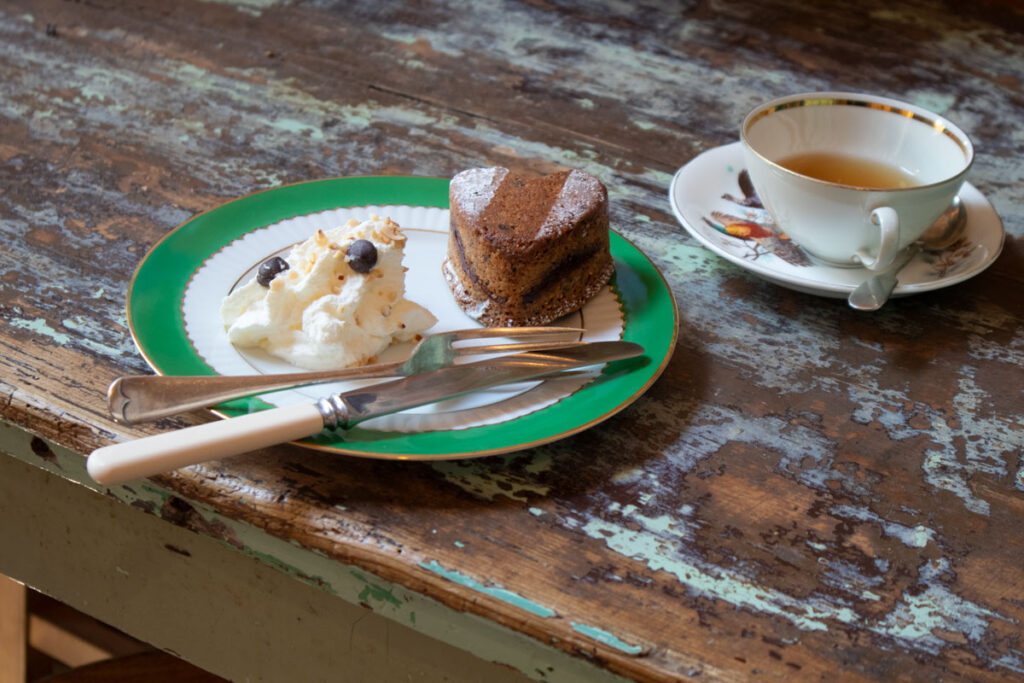 The cafeteria wants to be a friendly space where anyone can enjoy some quiet time, with soft background music, never too loud. The small selection of cakes includes an almond cake, a carrot cake, and a lemon cake, then we have a gluten-free buckwheat heart-shaped pastry filled with jam, a vegan tea-cake, usually banana and chocolate (in winter it's with the oranges we order from the Sicilian farm Scorzamara), and ice-creams. In the morning, fresh croissants from a nearby bakery. The savoury offer instead, is divided between plates/selections with cheese and vegan plates (hummus, falafels, cannellini bean salad), in addition to which we have the puccia, a type of sandwich from the south of Italy, an assortment of crostini and, in winter, a soup. We like to keep things simple and use quality ingredients to highlight the natural flavour of food.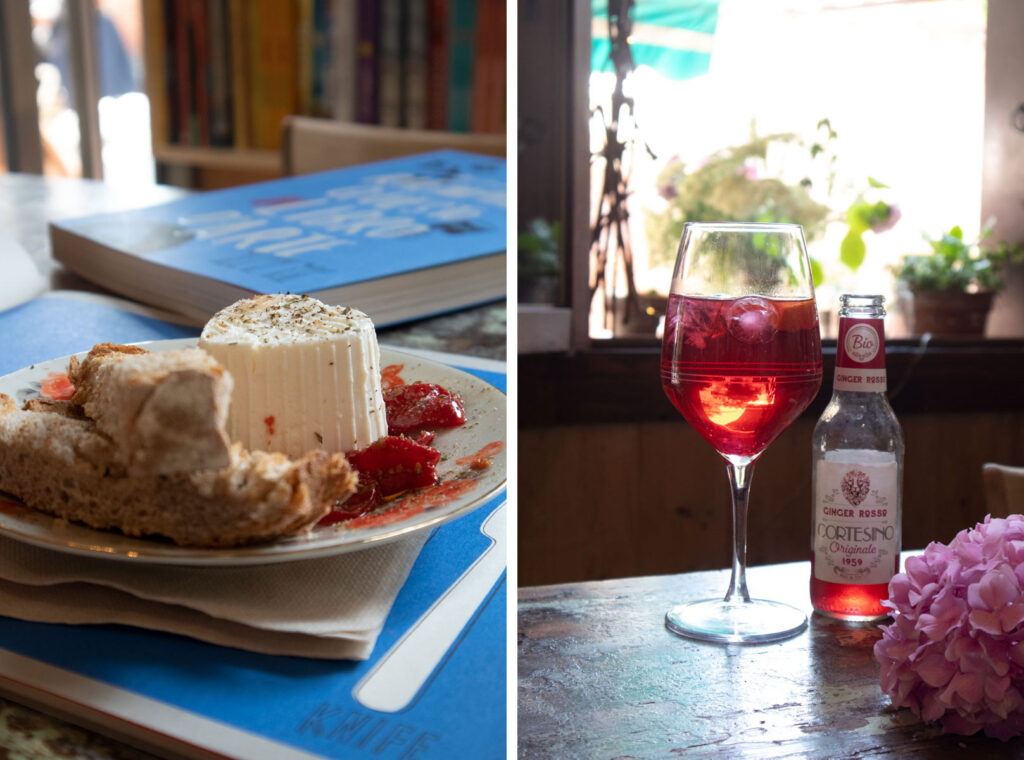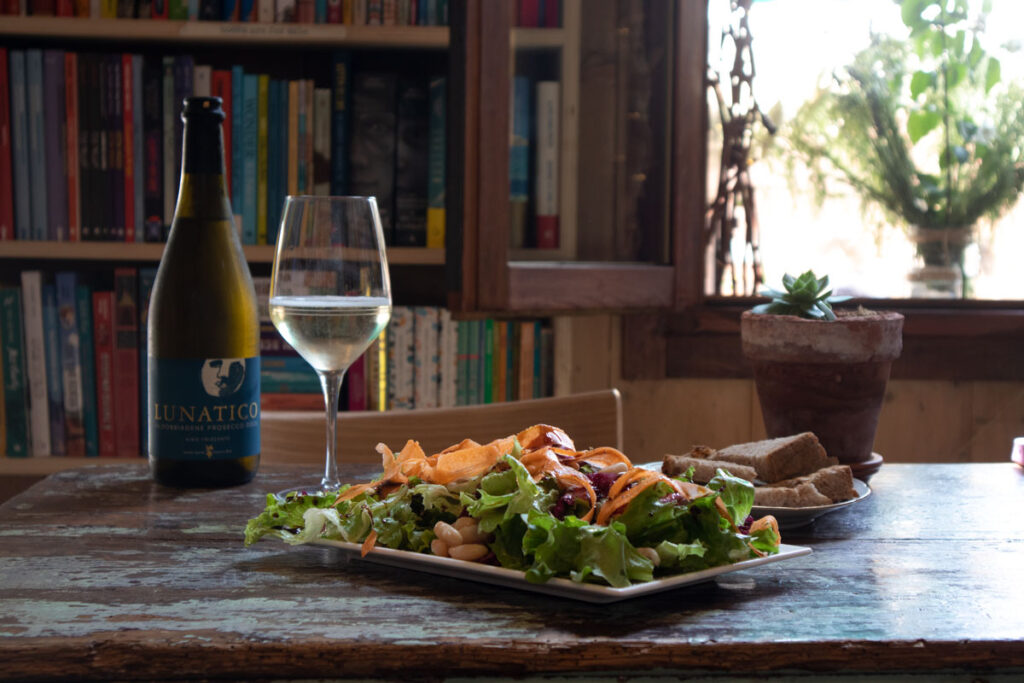 With the nice weather, it's lovely to sit outside along the canal in F.ta della Misericordia, while in the colder months we try to make the interior as warm as possible. My husband Rodolfo and I worked so hard to renovate it, we painted the walls and made small pieces of furniture and, of course, all the bookshelves. We brought some vintage objects from my family's house in the countryside and dried flowers from their garden. Most cups, saucers, and dessert plates too arrive from the countryside, where I buy them from a British antique dealer who has by now learned my tastes very well.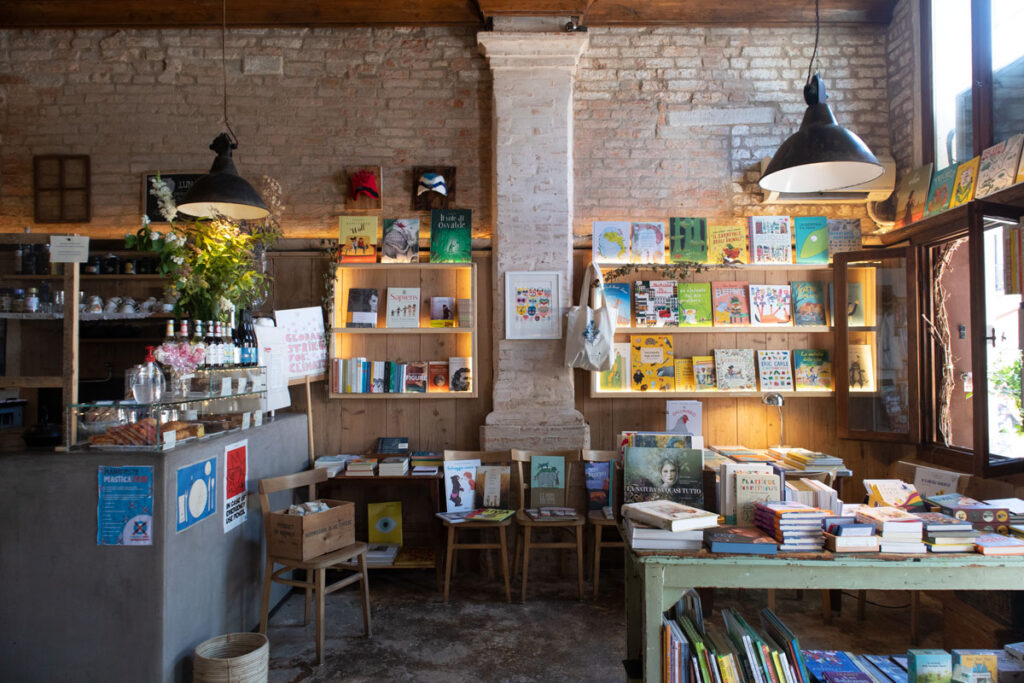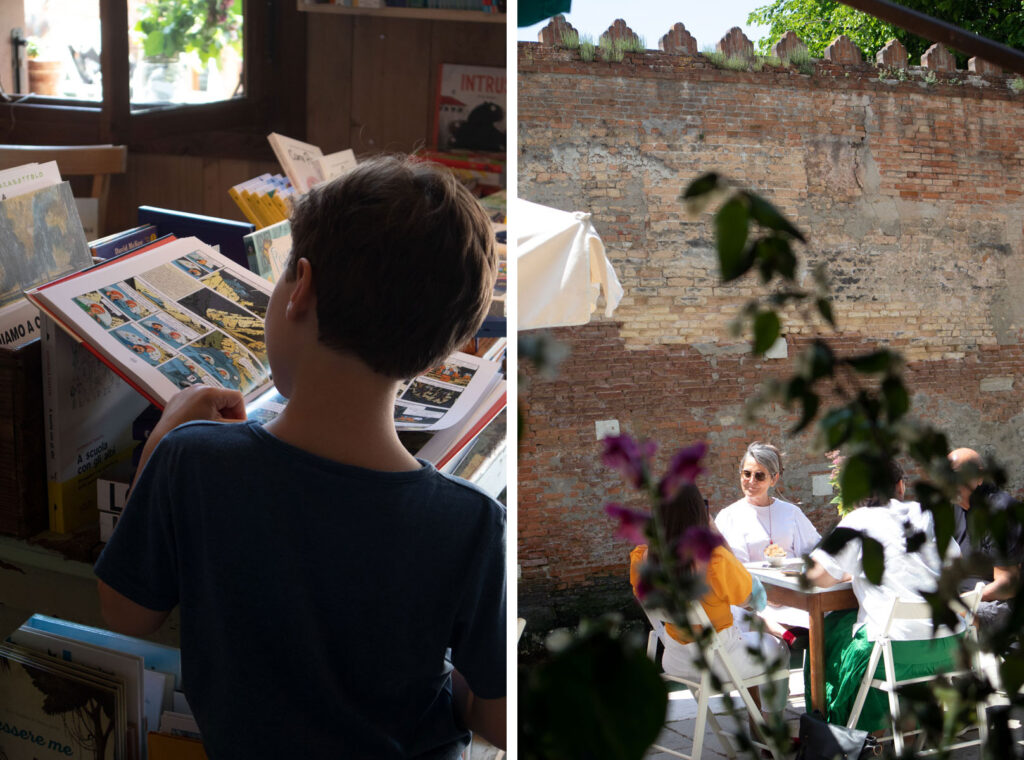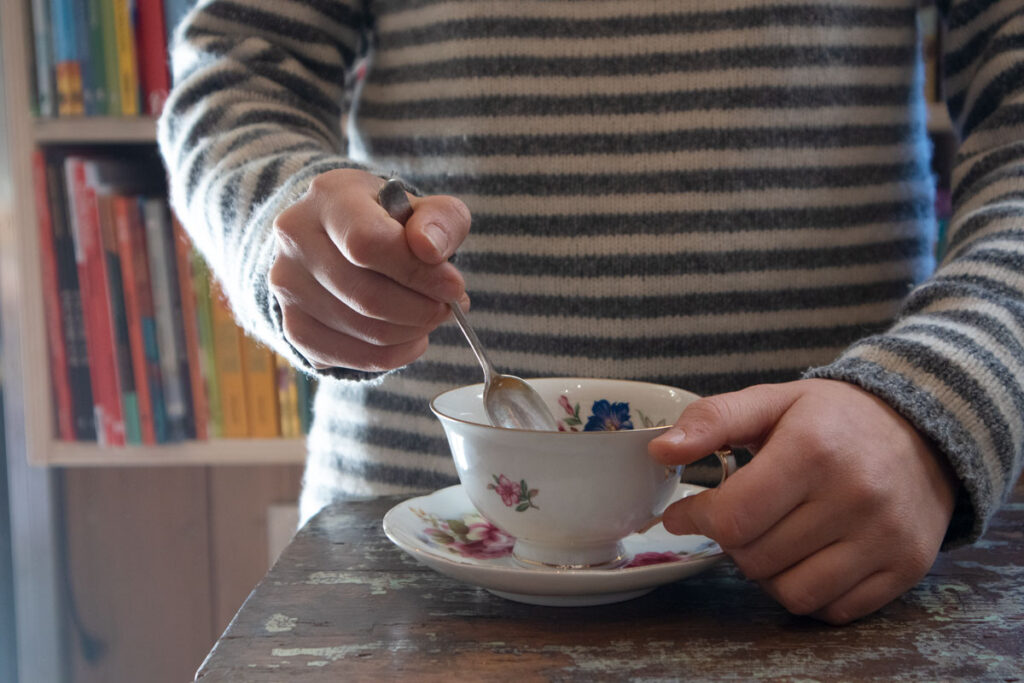 As previously mentioned, the whole purpose of sullaluna is to share with you a moment of peaceful detachment, a short time you take just for yourself. In English the name sullaluna may not make much sense, but in Italian sulla luna literally means on the moon, and we chose it because it is a fantastic place to imagine to be. A short while ago a friend tagged us in a post with a picture of his daughter at our bookstore and the caption below reported their conversation: "Dove andiamo papà?/Where are we going daddy?" "Ti porto sullaluna/I'm taking you to the moon", and it made me smile, as this is exactly what we intended.
So, we hope to meet you soon!
sullaluna
Address: Cannaregio – F.ta della Misericordia 2535, 30121 Venezia (VE)
Phone: +39 041 722924